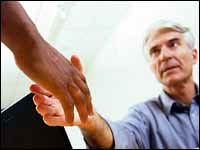 Whether you are a printing genius or this is the first time you've been responsible for your organization's printing (and you know nothing at all about how to get what you need), Bayprint will take care of you.
Every project we do with you will be produced to the highest quality, will be delivered on time, and will cost exactly how much we told you it would.
Best of all, when the finished product is delivered, everyone will think you're a printing genius.
Dependability - Our Guiding Principle Since 1982
1982 Al Karnavicius opens Bayprint in a 2,000 square foot location in downtown St. Petersburg. The business consists of one employee and one Xerox copier (70 copies per minute).
1984 Bayprint acquires a Xerox color copier - the first public access color copier in the city - and a 2-color printing press.
1985 Nancy Karnavicius joins the business. Bayprint acquires a second Xerox high-speed copier (120 copies per minute) and its first computer - a PC XT with a 5 meg hard drive!
1986 Bayprint out-grows its original location, leases a 5,000 sq. foot building eight blocks away and completes a 30 day renovation before moving in. Laura Guetzloe is hired as our full-time copier operator (she's still with Bayprint today!). In August we exercise an option to purchase the building, and 30 days later the City decides to build a multi-use stadium across the street.
1988 Bayprint acquires a second 2-color printing press and a Canon Color Laser Copier (one of only two such copiers in Pinellas County). Computerized estimating and management programs begin.
1990 A Macintosh computer is added to the Graphics Department and Bayprint offers in-house typesetting for the first time.
1991 Nationwide fulfillment supply agreement for business cards, letterhead and envelopes for large corporate client.
1993 A digital imagesetter is added in the Graphics Department.
1994 Bayprint upgrades to a Xerox 5390 high-speed Xerox copier, and computer-to-plate imaging begins in the Graphics department.
1995 A 2500 square foot addition to the building is completed, adding administrative offices on the second floor. A new computer network is installed and e-mail and internet access arrive at Bayprint.
1997 Al Karnavicius serves as president of 3000-member national printing trade association, PrintImage International.
1999 Bayprint acquires wide format printer, laminating and mounting equipment to offer a new service to clients.
2000 Bayprint launches new website, www.bayprintonline.com, including a feature to allow clients to electronically send graphic files to Bayprint over the internet.
2001 Al Karnavicius named "Printer of the Year" by national trade association, PrintImage International.
2003 Bayprint joins CPRINT ®, an elite association of approximately 100 printing and graphic firms from across the nation. These members are independently-owned, family-based businesses who meet in small peer groups twice a year and act as Board of Directors for each company. Specifically we strive to:
-- Provide improved customer service
-- Educate and train our employees
-- Keep abreast of the latest technology in our industry
-- Improve the financial health of our business to provide security and professional growth for our staff and an enhanced lifestyle for our families
2007 We move into a new facility 1.5 miles from downtown St Petersburg. The new building features purpose-built improvements in work flow, equipment layout, lighting and ventilation. Upgrades to our computer network allow us to communicate and transfer electronic graphic files up to 10 times faster than before. This improvement is significant to the increasing number of clients who send files and place orders with Bayprint via the internet.
At Bayprint we have always tried to be an active community partner. Al and Nancy Karnavicius have volunteered or served on numerous boards and committees including: American Stage, Brookwood, Executive Women's Golf Association, Florida Craftsmen, Kiwanis, St. Petersburg Area Chamber of Commerce and The Arts Center. Over the years our employees have been volunteers at homeless shelters, Chamber events, spouse abuse shelters, arts fundraisers and children's educational events.